| | |
| --- | --- |
| Atari Vector ROM Viewer | |
---
Current Version is 0.2
---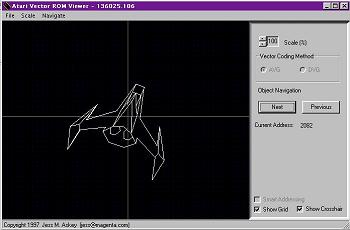 Here is a little project that I have started to work on. Clay C. inspired me with his beta versions of VSnoop and G08ed, which are for the Sega Vector games. I had written a text based vector dumper for Atari games last year but I was really new to C and didn't really have time to add a graphical front end like Clay has done. Well, last month I got a copy of C++ Builder by Borland. This is my first program written in it and I must say Im pretty impressed(with BCB, not my programming!). I know alot of people really hate Windows 95 but I only spent about 36 hours on this so far and it actually works (Well sort of!! :-)

This is still a beta right now so all the functions don't necessarily work quite yet, see below!

Features:
Will read most Atari color vector ROM's
SmartSteps through the Atari code
Optional Crosshair and Grid backgrounds
Completely Scalable
Creates useable energy from old bananna peels! Whoa!
Not Yet Implemented:
Previous button will only back-step once for now
Support for the older Black and White DVG hardware
Support for JSR and JMP instructions
Vector Editing and file saving
Bugzz!:
Watch out if you try and resize the appp, it may get ugly!
Some objects will not draw out, get to know the 'next' button
Scaling the object really big can screw up the drawing engine sometimes
Some lines are dropped sometimes??
Probably lots more!
Download AView 0.2!!