Dangerous Dann's Museum of Video History
Thanks to "Dangerous" Dann Frank, we have some neat little goodies to show here. We thought that Dann's excellent donations and precise scans deserved their own section within GameArchive. We are not too sure what Dann has in store for us but Im positive that he will have lots-o-stuff!!
Atari Lapel Pins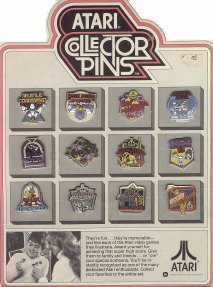 These are a series of collectable pins that Atari made available around 1982. As far as I know there are 13 of them in the complete collection.
The links below show closeups of each pin, more to come!
Press Photos
When a game was released by Atari, many magazines would do reviews or write-ups on these new games. Atari distributed these black and white photos of games for such reasons.
Rare Games!!??
Other Stuff
For the release of Gravitar, Atari distributed these fold up spaceships for game locations to promote the game.
Ahhhh, Christmas 1981.... wouldn't it have been nice to get one of these Tempest Chrismas cards in the mail??