Video
Meets Video
In Tinseltown
You know something's up when you can't even watch television without video games taking over the screen.
It all began last year when the cast of Fridays acted out a live Pac-Man game. Then a Pac-Man machine was installed at the Taxi garage, sending the hacks into a tiz. More recently, an episode of Remington Steele involved tracking down a missing games' company executive while another detective, Tom Magnum (Selleck) took time out of a rough case to play Tomytronic's hand-held Pac.
But you know things are deteriorating when Father Guido Sarducci (Don Novello) is summoned from his papal beat to conduct a game exorcism. In a Square Pegs episode titles "Pac-Man Fever," the good father was called upon Johnny Slash (Merritt Butrick) to release demon video game spirits from his best friend Marshall Belchtman (John Femia). And in "Shoot-Out at the O.K. Arcade," a Diff'rent Strokes segment, kid-star Gary Coleman bested his brother, the local video game champ, in a game of Space Sucker.
Will Captain Furillo lead the Hill Street cops on a raid of a hoodlum-controlled arcade? Will the Dukes of Hazzard stop burning rubber long enough to try their hands at Turbo? Stay Tuned.
-Sue Adamo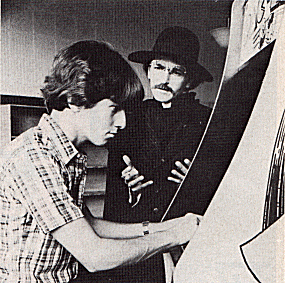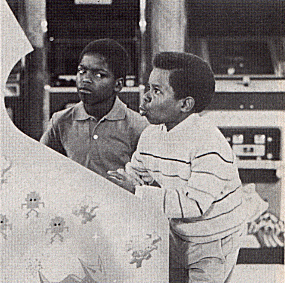 WHAT'S YOUR GAME: Don Novello as Father Guido Sarducci (top) appeals to a determined John Femia (as Marshall Belchtman) in Square Pegs. Equally as determined is Gary Coleman (bottom, right) as he takes on "Space Sucker" in Diff'rent Strokes.