that have people building a space station, landing on planets, or conquering obstacles? I think cooperation should be addressed more often than competition, but we're concerned with the hostility, be it verbal or physical, that these games cause.

"Games like Firebug and Custer's Revenge are teaching people skills we'd rather not have in this world," Radecki says. "Custer's Revenge may be much more abstract, and less objectionable than movies with rape themes like Class of 84, Concrete Jungle, and Death Wish II. Firebug, however, involves spreading fire and training people to be arsonists. How anyone could think these games aren't encouraging people to be violent is beyond me."

One man who challenges Radecki's claims is Peter Favaro, a Long Island school psychologists and doctoral candidate in clinical psychology. He and Radecki debated the violence issue on Mike Douglas' show last fall.

"Obviously," admits Favaro, "the games have aggressive themes. But no research shows it translates into aggressive behavior. If there is aggressive behavior around arcades, that's a correlation, not proof of cause and effect. Hey, there's aggression in schools and around supermarkets, too.

"In most games, the rules are unclear," he contends. "You have to project a lot. In Missile Command, for instance, you might be saving a city or participating in a terrible war. The way the player thinks of the game is based on all his past experience."

Favaro, who has received some financial support for traveling from Atari, questions NCTV's research methodology. "I don't think Radecki is approaching this matter scientifically, by testing hypothesis in a controlled and certifiable experiment. The social scientist's responsibility is to provide data, and NCTV just hasn't produced any."

Atari lent video games to Favaro for research towards completion of an as-yet-unpublished doctoral thesis. By "modifying the contingencies, changing the rules and providing positive and negative reinforcement to promote sharing, helping, and cooperative play." Favaro found that video games had therapeutic effects on 30 learning disabled and emotionally disturbed children.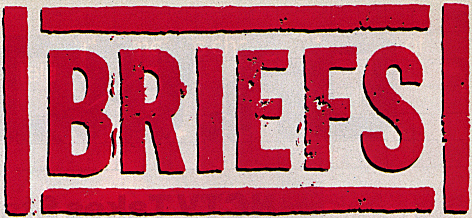 The Fight for
Ms. Pac-Man
There are a thousand and one court cases in the video game jungle. Some draw wide publicity, such as Atari's victory over North American Philips concerning Pac-Man. Others go relatively unnoticed, such as the battle over Ms. Pac-Man profits currently taking place in Chicago Federal Court.

In a request for a declaratory judgment, temporary restraining order and preliminary injunction filed on Oct. 27, Bally Midway asked the court to "permanently enjoin" General Computer Corp. (GCC) from "asserting publicly any right to the Ms. Pac-Man and Baby Pac-Man character" and from "interfering with any license agreement or business transactions between Midway and any other party including any licensee or prospective licensee under any right owned by Midway in the Ms. Pac-Man video game."

Why would GCC do these things? Eighteen months ago, GCC created a "modification" of the original Pac-Man called Crazy Otto. The only difference between the two games is that Crazy Otto has legs, "fruit symbols appear at various places in the maze" in Crazy Otto, and in the third cartoon

interlude (after the ninth maze) "two Crazy Otto characters, apparently male and female images, appear on the screen, and a stork coming from the opposite direction drops what appears to be a baby Crazy Otto character."

Midway and GCC "entered into a Game Agreement" on Oct. 29, 1981. Essentially, Crazy Otto became Ms. Pac-Man. GCC "performed the computer programming" and has since received "several million dollars in royalties." But GCC wants more: a piece of the licensing action. What's it worth? The court document says the "matter in controversy exceeds $10,000." It's probably closer to $10 million.

Neither side would comment. The decision is expected any day. Stay tuned, Pac-fans.

--Steve Bloom